Standing up for taxpayers
Mike Katz took on politicians in both parties to fix a bloated government program
Mike Katz identified a major problem.
As he poured over the books of the Delaware Health Information Network (DHIN), he found millions of dollars in waste, evidence of cronyism and no-bid contracts. The program was a mess.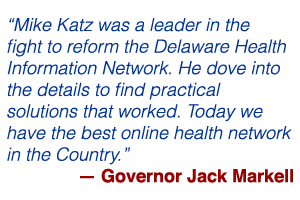 He'd have to take on politicians and lobbyists to fix it. 
But many politicians and lobbyists in Dover — including some in his own party — warned Mike to ignore the problem. They told him in no uncertain words: "leave well enough alone."
Mike stood up for taxpayers and overhauled the program. 
Mike took on the political insiders, working hard until he built enough support to overhaul DHIN. Now, the Delaware Health Information Network is the most advanced medical records network in the country, and it has a new business model that runs efficiently and effectively.