A hometown leader
Growing up in a working class family, I learned the value of sacrifice and hard work. My Dad had a cleaning company and began taking me on jobs when I was eight years old. I actually remember the first time that I went with my Dad, working right beside him scrubbing the floors and cleaning the walls. I worked hard and thought that I was being a huge help to my Dad. It wasn't until years later that my Dad let me know that he used to go back behind me and redo most of my work. It bothered me then, but now, as a father of three, I understand the importance of the lessons my Dad was teaching me — about personal responsibility, doing a job right, and sacrificing for your family and your community.
Photo: Mike with his wife Trish, and their three children, Abigail, Emily and Sander.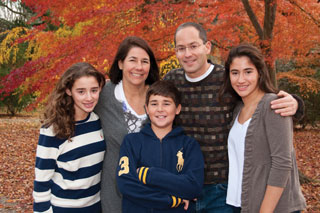 A trusted physician and small business owner.
My medical experience includes five years at the renowned Alfred I. DuPont Hospital for Children as an attending physician in anesthesiology and as an assistant professor at the Jefferson Medical College of Thomas Jefferson University. I am the Director of Anesthesia at the Endoscopy Center of Delaware and manage my medical practice where we employ office staff, advanced practice nurses, and physicians. I am involved in managing patient care, staff development and oversight.